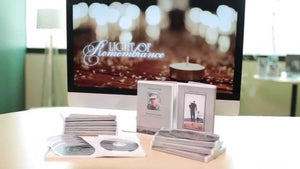 We can help you to create a Tribute DVD that's a fitting expression of the love shared between family and friends. Our experienced staff will create a one-of-a-kind video keepsake combining family photographs with music of your choice, and professional effects. Photos uploaded to an online obituary at Groff Funeral Homes & Crematory can be used to create your DVD, or you may provide us with up to 70 hard copy photos or emailed photos to sales@theremembrancecenter.com. 
If you are interested in having a Tribute DVD created for you, we will send you an information sheet with additional instructions.
Tribute DVDs are a wonderful gift to honor someone's memory to be played at a funeral visitation or Celebration of Life.  They are also used frequently at events at our Legacy Center such as bridal showers, weddings, birthday parties, anniversary or retirement celebrations, or graduation parties to showcase the guest(s) of honor!