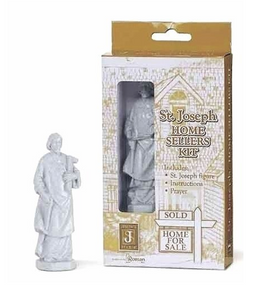 This kit includes a statue, instructions and a prayer to St. Joseph to help aid in the sale of a new home.  St. Joseph has been prayed to for over 2,000 years, helping to obtain favors of all kids, but particularly in housing, family problems and financial needs.
There are many ways to evoke the help of St. Joseph with the enclosed statue such as:
Make a 12" deep hole in the ground that is large enough to bury the St. Joseph statue (in protective wrap).
Place the statue upside down in the ground. Facing toward the house.
Once the home is sold, remove the statue from the ground.
Display the statue in a place of honor in the new home.
Dimensions: 3.88"H 1.38"W 1.125"D