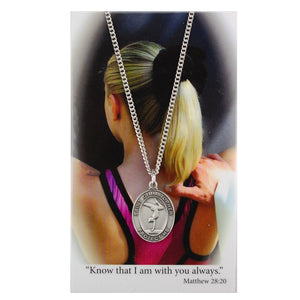 Celebrate your faith and your sport! 
This beautiful and durable Pewter Silver medallion is MADE IN AMERICA. Richly detailed and certain to impress, this beautiful medal features:
Cast silver pewter
18" silver toned chain
Durable to stand up to daily wear and tear
Laminated Sports Blessings holy card included
Each St. Christopher sports medal features an image of the sport on the front of the medal, with a prayerful invocation to St. Christopher, and an image of St. Christopher on the reverse.
Perfect as keepsake gifts for the end of the season or team banquets!
"Know that I am with you always." - Matthew 28:20
Size (inches): 3/4