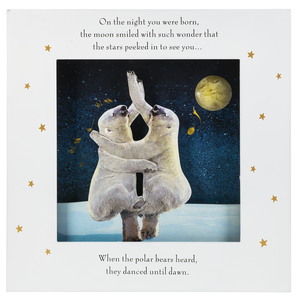 On the Night You Were Born Giraffes Shadowbox Wall Plaque is made of MDF and wood. Inspired by Nancy Tillman's Book "On the Night You Were Born." These come ready to hang in a child's room or nursery with hooks on the back.  Dimensions are 10" square by 1 3/8" D.
The shadowbox is 3 dimensional and the verse on this piece is: "On the night you were born, the moon smiled with such wonder that the stars peeked in to see you...When the polar bears heard, they danced until dawn."
Perfect for decorating the nursery!!