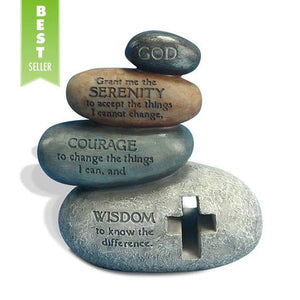 One of the most well-known prayers in and out of religious circles, the Serenity Prayer asks for serenity, courage, and wisdom in the face of adversity. This figurine captures that sense of calm with smooth balanced stones and an earthy color palette.
Textured stone resin construction with handcrafted detail in soft earthy colors
.  
Serenity Prayer and cutout cross design engraved into stones
.