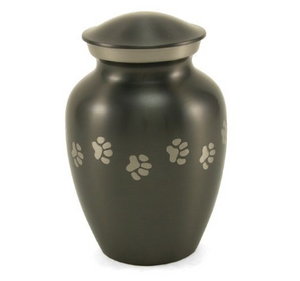 A metal urn is not only a perfect choice for both traditional and non-traditional tastes, but is also a perfect choice because of its timelessness and durability. This brass pet urn is made of brass with a beautiful slate/pewter finish.  Includes paw print tracks around urn.  
Dimensions:   
Extra-Small: 5.7" x 3.9" 40 c.i. 
**Engraving on this urn is available. Please contact us prior to purchase for additional information."