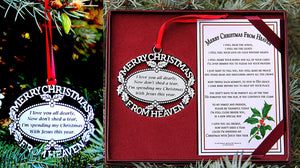 The Merry Christmas from Heaven Pewter Finish Ornament comes in a rich burgundy gift box and is made of lead-free jeweler's metal that is hand antiqued and hand polished. The ornament measures approximately 2.5" and the back side is suitable for engraving.

Merry Christmas From Heaven ornaments feature the most memorable last four verses of the "Merry Christmas From Heaven" poem and arrive with a bookmark that contains the entire poem.

The perfect memorial, bereavement, sympathy and remembrance gift for those who long to connect with more than a memory and open their hearts with love.