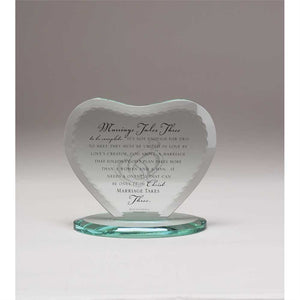 This glass tabletop decoration features a heart with intertwined wedding rings etched behind the poem: 
"Marriage takes three to be complete,
it's not enough for two to meet.
They must be united in love,
by love's Creator, God above.
A marriage that follows God's plan
takes more than a women and a man.
It needs a oneness that can be
only from Christ - Marriage takes Three."
A beautiful wedding shower, wedding or anniversary gift!  
Measures approximately: 6 1/2 inches x 4 3/4 inches x 5 1/2 inches H