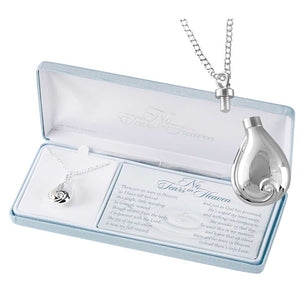 This beautiful silver plated Cubic Zirconia teardrop keepsake pendant will hold a small amount of cremated remains. Includes a 24" silver plated chain and is displayed in silver gift box with sentiment enclosed:
There are no tears in Heaven, so I have left behind this single, little teardrop to lovingly remind though absent from the body, I'm present with the Lord; the joy of my salvation is now my full reward. And just as God has promised, He's wiped my tears away, and nothing can compare to the wonder of that day. So wear this in memory, and know that up above there are no tears in Heaven, instead there's only Love.
Dimensions: 1" x 5/8" x 3/8"
Chain: 24"