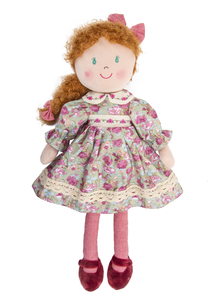 Olivia Rag Doll 20" Collectible Soft Plush Doll Floral Dress w/ Crochet Trim.
Adorable Olivia Rag doll has soft velour like upper body and checkered tights on legs & velour shoes. She has red hair styled in a side ponytail and adorned with a checkered bow and headband. Her cute smile will brighten up any space!
Great gift for that little someone that has just had a new baby arrive in their house, a birthday gift, new baby gift, or anytime! These dolls are precious!