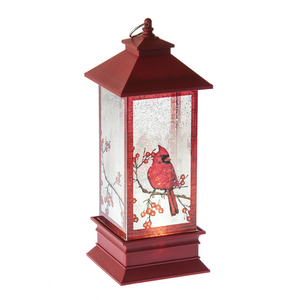 This gorgeous Lighted LED Shimmer Cardinal Lantern adds nature-inspired joy and a bright pop of red to your decor. Hang it or set it out on the table and bask in its warm glow! A thoughtful gift of condolence for those touched by the inspirational cardinal or a lovely gift for anyone who loves cardinals. When it is turned on it is lit from the bottom and the glitter swirls around the inside. 
3 AA Batteries Included.
Dimensions: 4 1/4" W. x 4 1/4" D. x 12 1/2" H.