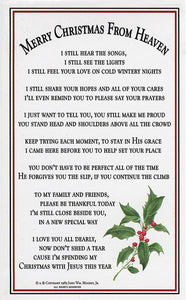 "Celebrate the life of a loved one"
Makes a lovely sentiment to include in a Christmas card.
John Mooney wrote "Merry Christmas From Heaven" in 1989, after the death of his mother in August. His only intention was to present it to his family that year at Christmas. He knew it was going to be a very difficult holiday season without her. The words, and the comfort he and his family needed, came to him after a prayer one night. As he wrote, he thought of the words his mother might say to each one of them.