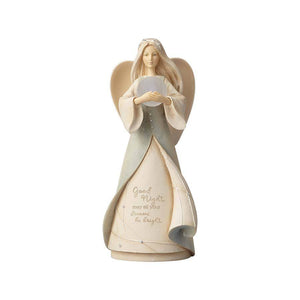 T
he Lullaby Angel Night Light is a graceful, stone resin 9" figurine with linen texture and crystal accents and engraved with a good night message. She holds a glowing LED orb to comfort and soothe little ones to sleep.
Intricately sculpted stone resin Lullaby Angel Night Light figurine with LED orb; two cell button batteries included
. 
Linen textured stone resin with a gentle touch of color and crystal accents
. 
Message reads: "Good night. May all your dreams be bright."