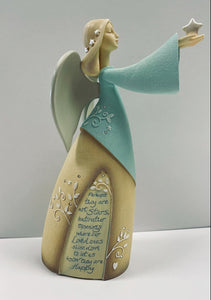 All seek some form of comfort and peace in a time of bereavement. The Bereavement Angel is an artfully designed figurine displaying peaceful elegance in linen-textured resin
.  
Intricately sculpted Bereavement angel raises a star in outstretched palms
.  
Crafted with high quality stone resin and stunning crystal accents, and "comfort" ribbon
.  
Features an engraved message "Perhaps they are not stars, but rather openings where our loved ones shine down to let us know they are happy."